A while back we made a list of our Top 10 Couch Co-op Games for the PS4. We asked you guys which are your favourites and you answered. You wanted your opinions heard and we have listened. IGCritic now presents your suggestions, in no particular order: the Top Ten PS4 Couch Co-op Games for PS4 (commenter edition).
The comments were full of many favourable mentions from Indie games to triple A titles both. Nikolas Lim calmy suggested: "OVERCOOKED! has to be on the list."
OVERCOOKED
Over cooked is a competitive cook off challenge game where players can pit themselves against each other or the AI to overcome obstacles and disorder in the kitchen to fulfill requested orders. Set your chefs to prepare ingredients, serve meals and clean as you go as you face head-on all the challenges of the culinary profession. Delegate duties to your team of su-chefs to fill the order before the time ticks away. No one likes a dissatisfied customer, so keep them happy and snap to it.
When the time runs out, players are scored with up to three stars depending on the quality of their cooking. There are  28 different zany kitchens each with their own challenging layout to navigate and utilise. Overcooked has been nominated for multiple multi-player awards as 4 players can cook off in Gordan Ramsay fashion, though with a lot less effing.
Overcooked is a great way to fry up some fun. SoK however recommends: "Lovers in a dangerous Spacetime"
And qarim350xd agrees: "Lovers in a dangerous Spacetime (yes couch coop!) made my wife loving video games!)"
Lovers in a Dangerous Spacetime
Available on PC, OSX, PS4 and XBox One, this action platformer is all about teamwork. You can play solo or 2-4 player. Either way it will take all your precision and timing to pilot your ship through space. As astronauts bounce through the winding anti-grav corridors to gain access to the consoles that power the lasers, cannons, shields and navigation. There are four different objectives that constitute the gameplay, like rescue missions (work together to save the stranded animals) and protecting the warp core (deflect an onslaught of attacks to the engines to maintain warp speed). Where couch co-op is concerned Lovers in a Dangerous Spacetime is out of this world (Yes, I said it).
You may think surviving in space is tricky, but when it comes to roughing it Dark Trollers simply prefers: "Ark"
Maggie Boxer also finds the Jurassic wilderness beneficial for family bonding and replies: "Dark Trollers yes. I got that game a few months ago. Me and my sister love playing it. Challenging and fun. Graphics are still kinda glitchy but better than anything else I've seen"
Ark: Survival Evolved
As it says on the box, this one is about surviving in the dangerous open world of the Ark, a hostile alien island with loads of lurking dangers. It comes with dinosaurs, diving, discovery and everyones favourite; defication. The split screen does make reading the text in the crafting menu require a set of magnifying glasses or a cinema size TV. Your technology starts pretty basic with stick and rocks to create pickaxes and such.  As you level up, gather resources and enhance your tools, the weapons and armour you can craft will improve and you'll be exploring into even more hostile territories. Where's the fun without a little risk, eh? Tame the denizens of the deep or excavate the frozen mountain tops. Nothing beats the freedom of taking to the skies on the back of a Pterodactyl.
Dinos are dandy, yet vampair finix arpanex was first to notice: "there's no fifa in this xD?"
FIFA 17
Then let us correct this oversight right now. The Fifa series has indeed been a staple of couch co-op for decades and still caters to the sports fan among the gaming community, as it has done since 1993. With at least one release every year EA Sports constantly updates the rosters that players can control to reflect the real competitive teams of footballers representing their respective countries world wide. Though online multi-player is an option in the latest editions, couch co-op really takes the game up close and personal as you show off your skills on the field for the person sat next to you.
I reckon the phrase "in your face" has been uttered more than once on those occasions. Though Minda Readingwolf has a different preference: "My boyfriend and I like How to Survive 2 and 7 Days to Die. Zombies are kind of our thing."
HOW TO SURVIVE 2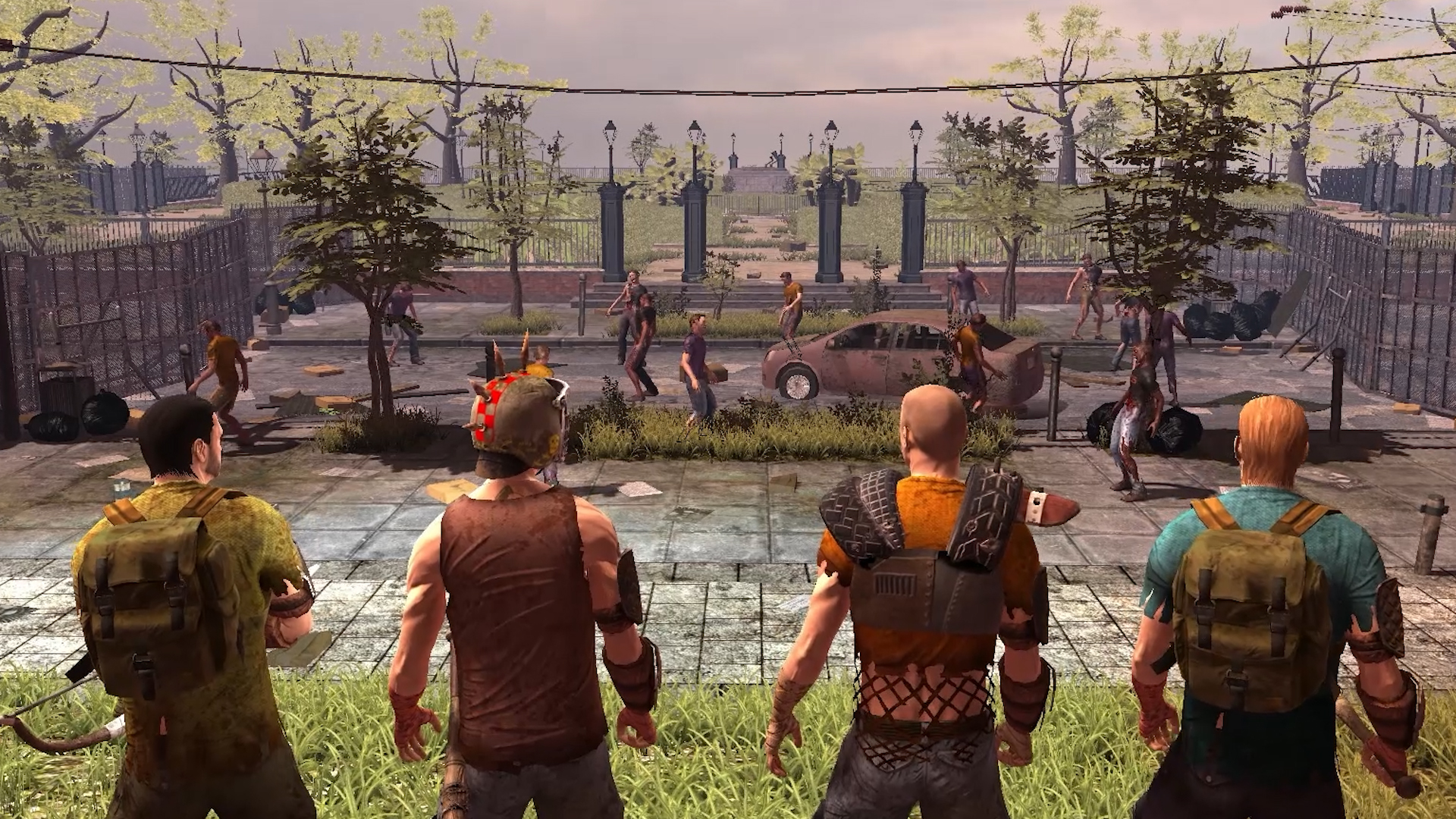 Though both those games succeed in granting an adrenaline rush we're going with "How to Survive 2" as it can host 4 player couch co-op while "7 Days to Die" limits itself to two player. A bigger team just means more zombie bashing. Take it from me they need a good battering. The Survival Horror genre has indeed become increasingly more appealing over the years thanks to the improvement of graphics and immersive gameplay mechanics. Add some couch co-op teamwork into the mix and you have a game certain to test the strength of your friendships as you learn who you can rely on and trust to watch your back.
Noel Buitrago considers: "Salt and Sanctuary coop."
SALT AND SANCTUARY
Dark, edgy and medieval, Salt and Sanctuary is a vicious side scrolling hack and slash platformer with some terrifying Dark Soulish bosses. The aim of the game is to find the princess and escape this harrowing island on which you find yourself marauded. Whereas normal human beings like you and me are composed of water, in this game people are mostly made up of salt, and it's this popular table seasoning you need to level up your attributes. Your character is customisable, which I appreciate. If I'm gonna be crushed by a giant mallet I want to look my best. Combat your way through the levels with your choice of blades, bullets or blasts of magic. Whatever your preferred method of slayage, making a bloody mess with your mates has never looked such fun.
Now, Shukkuri disagreed with our previous number one, stating: "Man, I would replace Binding of Isaac with Enter the Gungeon. The co-op is better and you don't have to borrow life from 1P just so 2P can play with 1 heart container. It's also a better top down rogue-like overall. It also came out early 2016."
ENTER THE GUNGEON
Enter the Gungeon certainly has a bigger wow factor, is far less icky and while playing you just feel more badass blasting your way through a barrage of living bullets. The dungeons are procedurally generated so you'll get a different gauntlet to run through each time you play. A solo or 2 player experience, there are 200 different guns but it's the one guarded in the deepest floor that all the fuss is about. With so many ways to scratch your trigger fingers, who wouldn't be tempted to run around like a loose cannon but when facing these bosses you'll just have to bite the bullet or they'll have you lock, stock and barrel.
By the way, thank you to Thammy HD who reminded us: "you forgot Star Wars Battlefront"
STAR WARS BATTLEFRONT
Star Wars Battlefront certainly deserves a mention, not just because pairs of Jedi get to be comfy enjoying couch co-op, but for the intensive online multi-player skirmishes that have become popular enough to warrant a Star Wars Battlefront 2! Players can work together to progress through the story campaign or team up in survival mode. It has something for everyone, you can be a rebel soldier with a blaster or be a Jedi master, you can play from the ground or nick a TIE fighter and rain havok from above. Do you stand with the beliefs of the Alliance or crave the power of the Dark side offered by the Empire?
Damian Serah has their own query: "no phantom breaker overdrive? tsk"
PHANTOM BREAKER: BATTLEGROUNDS OVERDRIVE
Well un-tsk that tsk as, to use its full name; Phantom Breaker: Battlegrounds Overdrive promises Uber Chibi fun in this anime style beat 'em-up on PS4 , origionally released 2015 for the PSVita. A spin off from the Phantom Breaker series, the gameplay is reminiscent of old school side scrolling arcade beat em ups. Someone, only known as Phantom, is out to take over the world and the only ones who can put him in his place and disparage the demonic forces he wields are a quad of teenage school girls?! Why not? The higher you can raise the combo meter, the bigger the waves of gold and jewels that will explode from defeated baddies. If you can get a four player game going, then expect waves of coinage as well as demons. The hype just increases the further you go.
Certainly one for anime lovers, yet SCP-098 ponders: "no hell divers ?"
HELLDIVERS
Uh, Yes Helldivers! Helldivers is an exciting top down shooter wherein nearly every shot can damage your allies and team mates as well as enemy attackers, so watch your aim and don't point that thing at me. Coordination is crucial to counter the chaos enveloping the world around you as enemy forces are relentless. In this futuristic top down shooter, Super Earth is under constant threat from three different factions. The Bugs, the Cyborgs and the Illustrates are all gunning to take out the human race. Amidst the warzones on various planets throughout the galaxy, there are not only balistic weaponry but also tanks and battle suits to utilise to make a deadly scenario even deadlier. There are escort missions, zones to capture and a near infinite onslaught of danger.
Those were the Top Ten Couch Co-ops for the PS4 as suggested by you. Perhaps you know of some more couch co-ops or prefer to play with larger groups online. If there are any other rankings or gaming videos you'd like to see, don't be shy, just pop your suggestions in the comments here. I'm Richie. Stay magic and see you next time.